DVR-188 this one of the most important features is that it can complete the phone call recording, no other external line, as long as your phone uses Bluetooth device and DVR-188 paired on it, really reach wireless mobile phone call recording, convenient and fast, anytime, anywhere to record important call information, work hard eras, important information one does not fall. To put it simply, this recorder works in a bit of a similar way to a Bluetooth headset. The phone and the recording pen are paired after the recording pen can also be operated to answer, hang up, dial back the phone.
At this time, some people may ask, this recorded cell phone call can be clear no, Bluetooth signal stability? Here I can be sure that the recording quality is definitely no problem, because we use the recording rate of up to 192Kbps, to ensure the quality of the recording. Now Bluetooth technology is relatively stable relative to the previous, as long as you are not in that kind of interference source is a more strong place, the normal situation is very stable.
HNSAT DVR-188 to remove the new feature Bluetooth recording think that other professional digital recording pen should have functions, one-click recording one-click playback, this DVR-188 screen using OLED, so that the screen more bright and clear.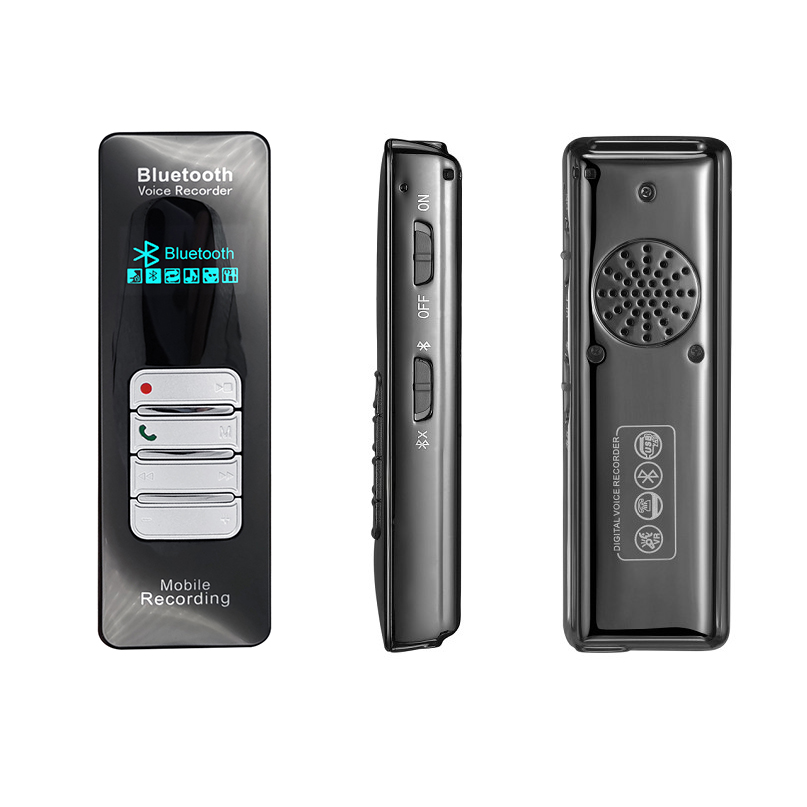 Apart from the screen, his appearance is also very noble. The panel material is a high-tech new material called IML, characterized by transparent and good-looking and very hard wear, looks cool and very good type. Then, the fuselage is all metal, is cast in one, solid very feel. Take it in your hand and have a face.
The same as the company adhering to the professional and recording pen of the recording pen, so the company's recording effect is also greatly improved, recording bit rate: four levels are LP 32Kbps / long recording SP 64Kbps / standard recording HQ 128Kbps / high-quality recording SHQ 192Kbps / ultra-high fidelity recording, the highest SHQ ensures ultra-high fidelity effect, let the original sound reproduction. Four different levels are also designed to better meet your different recording quality needs.
HNSAT DVR-188 is now more human, it has a voice-activated function, 0 to 60 levels, adjustable, so the advantage is that you can adjust the level, the voice that does not want to be recorded to shield off. Plus password lock function is also very good, set password, the content of the recording pen only can use themselves, others do not have a password to open your record pen to steal your data. Now DVR-188 also makes up the recording pen can not support the expansion of defects, TF card expansion function, the maximum can support 32G card so that the native memory can have 40G capacity, you do not have time to clean the recording pen file also does not matter, 40G memory you can use for a long time without cleaning, will not worry about the problem of insufficient memory.
DVR-188 Is timed booking recording function, in a set period of time, their own work records the information you need, more time-saving and efficiency. DVR-188 has more folder classification function so that you clearly classify files easy to find quickly.
The same HNSAT DVR-188 also has external microphone recording, telephone recording, support for 24 over language operations, MP3 entertainment function, and time settings.
HNSAT DVR-188 even the smallest detail of the external sound is not much also took into account the designer has also improved, DVR-188 uses high-power horns to make up for the small sound problems, the sound is large but also to ensure the sound playback effect. Battery power time has also been extended so that the power time can reach about 17 hours at a time.
It can be seen that HNSAT is good intentions for this DVR-188, only to create the present DVR-188, which can also be described as HNSAT radical work.
And I think the DVR-188 is the only word that really calls it, the only function of DVR-188, which is not available on the world, and we did it. Isn't that a good time? Now everyone in the world wants to find some innovative new products, now HNSAT Industrial Co., Ltd. DVR-188 is not exactly the kind we are looking for with innovation, unique, they have others do not have good products. The HNSAT DVR-188 is the product everyone is looking for. Because it really did the only unique!
HNSAT Industrial Co., Ltd. is looking for agents, distribution, retail, contact: Mr. Qi Tel: 0755-82798382, 1501792819 QQ:1457087853